SAP Business One Software for the Pharmaceutical Industry
Solve your specific life sciences needs, control processes, and ensure compliance at
every level of the business.
SAP Business One is an ERP solution for small and mid-sized pharmaceutical companies that can support your life science business in any of the following stages:
Research & Development
Pre-clinical Research
Clinical Research
FDA Drug Review
Commercialization or Post-Market Drug Safety Monitoring.
Pharma One with SAP Business One can help manage the increasingly complex challenges pharmaceutical companies are facing, such as healthcare reforms, extensive regulatory requirements, global competition, unpredictable trends, and complex financial requirements.
SAP Business One and Consensus International provides Amici Pharmaceuticals with the right dose of scalability
Discover how Amici Pharmaceuticals implemented SAP Business One to increase sales, strengthen partnerships, and develop new business opportunities. This provider of generic pharmaceutical products now has a fully scalable ERP solution that has improved overall efficiency and enhanced manufacturing reliability.
SAP Business One for Pharma: Top Benefits and Industry-Specific Capabilities
Chargebacks and Rebates
Managing and calculating chargebacks and rebates can be complex, difficult, and expensive. SAP Business One for Pharma, we can help you automate this process.
Recipe and Formula Management
With SAP Business for Pharma, you can create and maintain complex recipes, formulas or bills of materials.
Lot and Batch Number Tracking
SAP Business One with Pharma One supports statutory requirements for bi-directional Batch/Lot traceability and supports the need for managing product recalls.
Advanced Inventory Management
Set up your inventory on a 'first expiration, first out' rule to reduce non-compliance risks and inventory obsolescence.
Medical Representative Management
Pharma One with SAP Business One manages contact information with Pharmacies and Doctors' Offices as well as providing the ability to report the items and quantities they have ordered, prescribed, or received as samples.
Forecasting
SAP Business One for Pharma provides planned to actual by individual customer forecast.
Our Pharmaceutical Clients Experience
"Consensus and SAP Business One gave us the tools to be more reliable manufacturers to our customers. In our ERP search, SAP Business One checked off all the boxes for us due to its out-of-the-box power, its scalability, and its flexibility to customize."
"It made us more efficient and productive. And it gave us a better insight into how our own structure is working."
"Implementing SAP Business One enables us to grow along with our customers' growth, and helps us make better-informed decisions."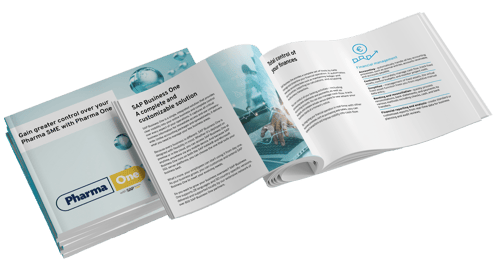 Complex regulatory compliance requirements
Elaborated Supply Chains involving controlled substances
Rapid Inventory turns due to potency degradation and batch/lot expiration dates
Advanced Financial capabilities needed to manage chargebacks, rebates, returns, and profitability
Download our e-book and learn how Pharma One with SAP Business One can help you manage this and other complex challenges you might be facing today in your Pharmaceutical Business.
Your SAP Business One Investment
ROI and Payback time estimates are based on the experience of customers that implemented SAP Business One with Consensus International throughout our 30+ years of history and on conservative outside-in benefits due to moving from disparate systems, manual processes, or a legacy system to SAP Business One.
As each company is at a different level of maturity, we recommend working with you to determine the value proposition for your business.
Return on Investment
50%-90%
Typically our customers get a return of investment on their SAP Business One implementation of 50% to 90%, sometimes higher.
Payback time: 9 MONTHS
Our customers experience a typical payback time of 9 months.
Consensus International is an SAP Gold Partner that sells, implements, trains and supports its customers on SAP Business One from its offices in Florida, Texas, and Massachusetts.
If you are evaluating SAP Business One ERP for your pharma business, simply fill out the form, and we'll be in touch.
The best way to start your Company´s Innovation Journey is by getting a quick ERP consultation with one of our experts. Have a short, no-pressure discussion to see if SAP Business One could help you simplify your Business Management.
We'll discuss:
What business software are you currently using (if any)?
What are your main challenges today?
Could SAP Business One help?
Success Stories
Sell smarter with SAP Business One Sales mobile app for iOS or Android, designed for busy sales teams on the move.
Modules in SAP Business One
SAP Business One is an affordable ERP solution designed for small to midsized businesses with the capabilities to manage your entire business.
What is SAP Business One?
SAP Business One is an affordable ERP solution designed for small to midsized businesses with the capabilities to manage your entire business.