SAP Business One Software for Retail
Affordable ERP for small to medium-sized businesses with retail-specific functionality that gives you full visibility and control over planning, inventory, analytics, POS, and customer management.
SAP Business One ERP addresses specific industry needs for the retail sector
At the heart of retail is the customer. Is your retail company prepared to see the future and deliver on the promises you are making to your customers?
SAP Business One for Retail is an affordable ERP for small to medium sized businesses with retail-specific functionality that gives you full visibility and control over planning, inventory, analytics, POS, and customer management.
No matter the size of the business, retailers need to be able to put the customer at the center of all decisions, meet unique customer needs and preferences at scale, enable fast response to changes in demand and supply and provide their customers with unique and seamless shopping experience.
How do retailers respond to this increasing need to engage at the right moment, consistently, across multiple sales channels and technologies? SAP Business One Retail is a fully integrated ERP that provides retailers with the real-time insight they need to make accurate and informed business decisions.
Gain customer trust and deliver unified, superior, personalized customer experiences throughout every interaction
Improve customer loyalty and increase conversion rates to drive repeat business and profitability
Manage and operate global business networks
Meet evolving shopper expectations at brick-and-mortar stores and online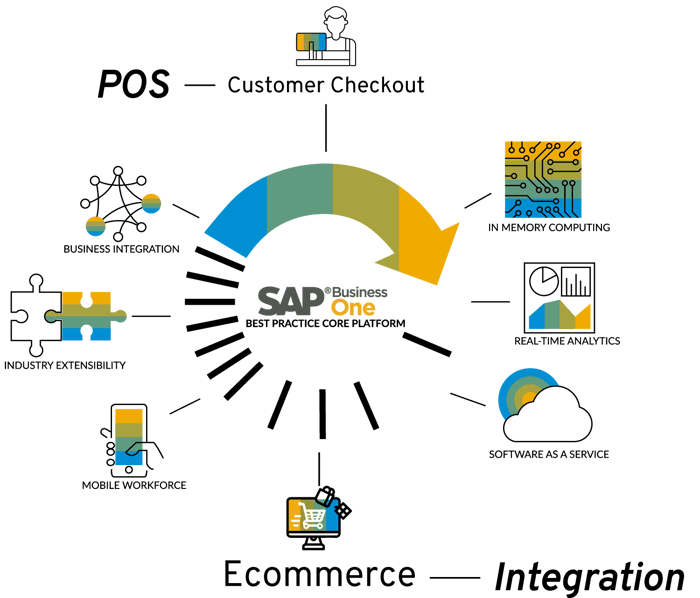 SAP Business One Retail includes the following key functions for retail companies
SAP Business One has several key features that will enable retail business growth, streamline your operations, help increase profitability and control and keep your competitors on their toes. Read some of them:
Finance
Handle financial transactions, including general ledger, account set up and maintenance, journal entries, multidimensional cost centers, foreign currency adjustments, and budgets.
Sales
Manage sales forecast, easily create quotes, process customer orders, set up deliveries, update stock balances, and manage all invoices and accounts receivables
Stock control
Handle stock levels, item management, price lists, special price agreements, transfers between warehouses, and stock transactions
MRP
Generate an intelligent forecast based on sales history, run MRP including intelligent forecast or sales team forecast and analyze differences.
Purchasing
Manage supplier transactions, such as issuing purchase quotes and orders, updating stock, calculating landed costs for imports, handling returns and credits, and processing payments.
Real time reporting
Gain real time access to critical information with integrated reports and dashboards. Tailor queries and report lay outs, without IT assistance.
Benefits of SAP Business One for small Retail businesses
More and more retail companies running SAP Business One are realizing the benefits of this ERP due to its capabilities to manage the end-to-end processes of the retail business.
SAP Business One Retail software will help you:
Increase sales by reducing stock-outs, so you have the right items on hand when customers come to the store or place orders online
Improve customer satisfaction and loyalty with faster, more informed response to customer needs
Reduce reconciliation by closing the loop between sales, credit card payment and bank statements
Reduce inventory costs through accurate and streamlined inventory and distribution processes
Increase agility by anticipating customer demand and responding quickly
Maximize visibility into profitability and margins, sales, marketing, inventory, and more
Use accurate forecasts to make better, more cost-effective buying decisions
Improve visibility into supplier information, including purchasing and stock management
SAP Customer Checkout with SAP Business One for Retail
One Click from the POS to the ERP system
POS technology is no longer used simply to make straightforward payments. Customers now expect to be able to collect loyalty points, obtain discounts, and create personalized accounts – quickly and efficiently.
At Consensus, we understand the value of having your POS and ERP working together. Good news is that SAP Customer Checkout is optimized to be used with SAP Business One. You have access to the data, anytime and anywhere. Even if your Internet connection goes down, your employees can continue working normally. The invoice data is saved and sent to SAP Business One as soon as the connection is available again.
SAP Customer Checkout covers all common point of sale requirements for your retail store. From sales to discount campaigns, SAP Customer Checkout gives your sales staff all the information they need.
SAP Customer Checkout helps you with:
Merchandise sales and returns
Cashing up and daily accounts
Discount and voucher management
Payment with cash, cards, and vouchers
Integration of customer orders (down payments, invoices)
Loyalty management.
Your e-Commerce platform and SAP Business One
Consensus International integrates your SAP Business One with your e-Commerce platform, Amazon, Shopify, eBay, ChannelAdvisor, so you can run better and keep track of everything regardless of the sales channel.
Add multiple online sales channels without losing operational efficiency
Reduce manual entry (save time, reduce errors)
Handle increased demand without increasing resources
Increase customer satisfaction with real-time information
Simplify product and price management
Consensus International is an SAP Gold Partner that sells, implements, trains and supports its customers on SAP Business One from its offices in Florida, Texas, and Massachusetts.
If you are evaluating SAP Business One ERP for your Retail business, simply fill out the form, and we'll be in touch.
The best way to start your Company´s Innovation Journey is by getting a quick ERP consultation with one of our experts. Have a short, no-pressure discussion to see if SAP Business One could help you simplify your Business Management.
We'll discuss:
What business software are you currently using (if any)?
What are your main challenges today?
Could SAP Business One help?
SAP POS for Small Retail Businesses
SAP Customer Checkout POS solution for small retail businesses covers all common POS requirements for your retail store from sales, payments, discounts, vouchers, and returns.
SAP Business One and SAP Customer Checkout POS working together
You are sacrificing time and money in your retail business if you don't integrate your ERP retail software and POS, and you need both. Explore the options here.