SAP POS for small businesses
Point-of-sale (POS) management, real-time sales, and stock updates
What is SAP Customer Checkout POS and what can do for your Retail business
SAP Customer Checkout is a flexible point-of-sale (POS) Solution for Retail, Entertainment, and Food and Beverage businesses that covers all common POS requirements and is out of the box integrated with SAP Business One ERP. It can be deployed on-premise or in the cloud.
SAP Customer Checkout helps you with:
Merchandise sales and returns
Cashing up and daily accounts
Discount and voucher management
Payment with cash, cards, and vouchers
Integration of customer orders (down payments, invoices)
Loyalty management.
It provides your sales staff with all the information they need. Customers can pay in cash, with standard debit and credit cards, or gift cards – either at stationary cash registers or via staff members' hand-held tablet PCs.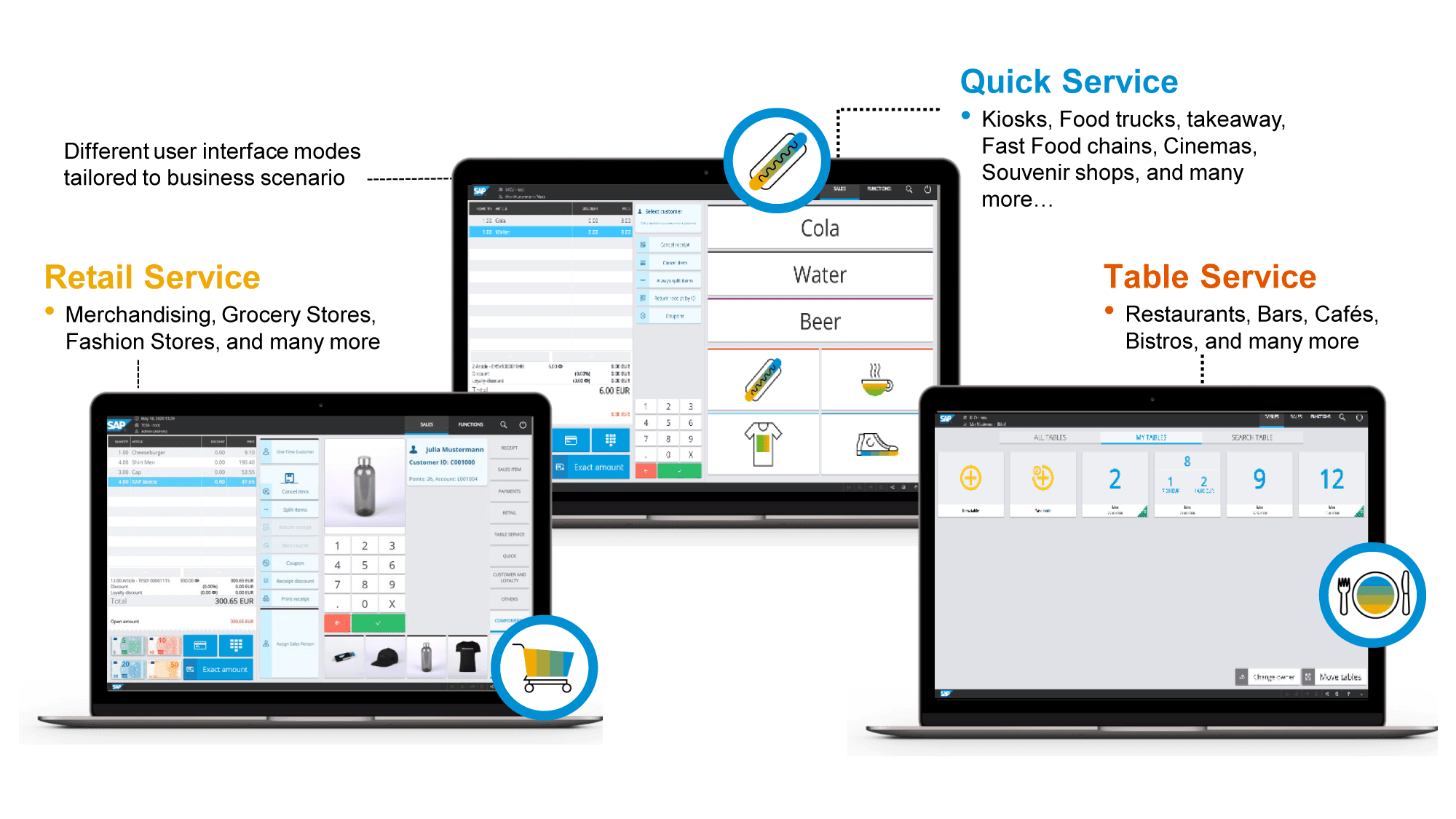 What functionalities does SAP Customer Checkout POS for Retail cover?
Checkout process: from article selection to discounts and tax deductions, benefit from a fast sales process. Deployed on a normal PC, or tablet, SAP Customer Checkout works online and offline.
Article management: make ramp-up and operation easy since article management is 100% integrated with the SAP Business One ERP for Retail
Reporting: find out with just a few clicks how much revenue you did per shop or per product in real-time. Get all the sales reports you need to analyze the data on the same day
Customer and loyalty Management: manage your customer profiles so you have transparency into whom you are dealing with. Start loyalty programs to handle coupons and vouchers.
Payment: support various payment options such as cash and card payments, gift cards and vouchers, and transactions and invoicing.
Food and beverage: benefit from the optimized sales screen with quick selection buttons to expedite the process at the point of sale.
Table Management: use SAP Customer Checkout as a standalone or with an SAP ERP system to manage your tables in hospitality.
Integration to SAP solutions: integrate SAP Customer Checkout POS with SAP Business One
Success Story: Movistar Arena and SAP Customer Checkout POS
SAP Customer Checkout Key benefits
POS deployed on-premise or on cloud
Over 500 retail companies in 46 countries realize these benefits from SAP Customer Checkout POS solution:
Manage POS operations centrally for multiple locations and gain real-time insights into sales and financial data
Save time and prevent manual errors through a seamless end-to-end integration into your ERP system
Gain insights on customer purchase history and offer personalized sales
Benefit from minimal implementation and operating costs
Multi- and omnichannel retailing
Flexible extension and adaptation
Top 5 Reasons Why SAP Customer Checkout is the right POS Software for your business
Consensus International is an SAP Gold Partner that sells, implements, trains and supports its customers on SAP Business One from its offices in Florida, Texas, and Massachusetts.
Want to explore SAP Customer Checkout POS? Simply fill out the form, and we'll be in touch.
The best way to start your Company´s Innovation Journey is by getting a quick ERP consultation with one of our experts. Have a short, no-pressure discussion to see if SAP Business One could help you simplify your Business Management.
We'll discuss:
What business software are you currently using (if any)?
What are your main challenges today?
Could SAP Business One help?
SAP Business One Retail: ERP Software Solution for Small Retailers
Affordable ERP with retail-specific functionality that gives you full visibility and control over planning, inventory, analytics, POS, and customer management.
SAP Business One Retail and SAP Customer Checkout POS working together
You are sacrificing time and money in your retail business if you don't integrate your ERP retail software and POS, and you need both. Explore the options here.